To browse payments tap Payments in the left-hand navbar.
This will display all past payments by date. If you choose another date range or filter by tag the list of past payments will update. A total for the displayed payments is shown at the bottom.
If you check the boxes to the left of each past payment you'll get the following bulk action options:
Change payment tags...: Change the tags of the selected payments.
Email payment statements: Read email payment statements for more info.
Export selected payments: Export the selected payments to a CSV file.
Delete selected payments: Delete all the selected payments.
Tapping on the Future payments tab will display a list of upcoming scheduled payments. While the payee can cancel or change the payment, you can also delete a future payment.
Tip: If each payment is opened in a new tab then you will be able to keep your place in the list as you browse through payments. You can open payments in a new tab by holding down Ctrl (Windows) or Cmd (Mac) before clicking on the payment.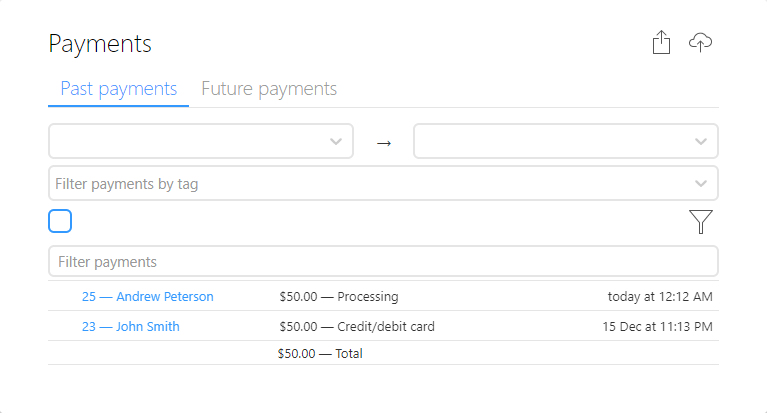 Share payment form
On the top right of the Payments page, you can find a button to the payment import page and also the Share payment form options.