Teams & Services
Now that you've gotten your first service out of the way, you've set up the Groups and Meetings and understand Forms and Processes allowing for care and follow-ups, let's look at getting your serving teams set up in UCare.
Teams are similar to Groups in many ways. The main difference between the two is that Teams allows you to add skills that People have so that they can be rostered appropriately in Services. While Teams can be directly linked to Service plans, Groups cannot. Unlike Groups, Teams does not allow you to track attendance.
Services, meanwhile, provides the necessary tools to plan and organize a successful service. This feature allows you to roster your various teams, notify them, receive confirmation of upcoming Services, and schedule service requirements and time frames. You can view your upcoming services and roster teams well in advance with the handy Multi-planner, which gives you a top-down view of your services. Services also allows you to attach any necessary files.
Whether you are storing documents, chord chart PDFs, MP3 audio files, or MP4 videos, you can access what you need using the Files feature. These files can be linked to Services and shared with the People and Teams they need to be shared with.
This Part will cover setting up your Teams, using Files and creating Service plans.
Teams
Let's start by first creating our Teams. Click + New → Team to make a new team: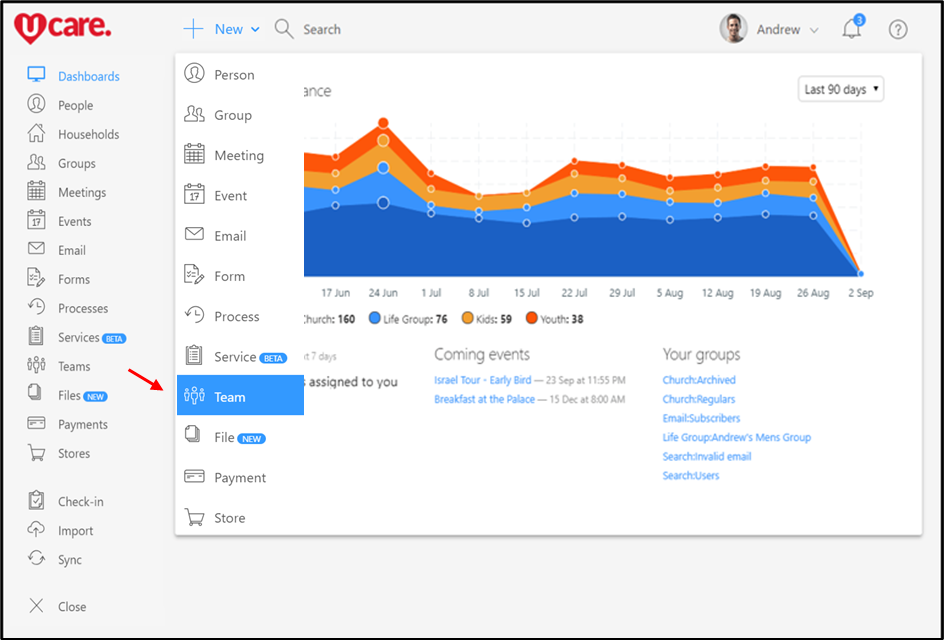 Specify the Type, Name and Security access as required. Click the + Add description button to add a description. Click the Save button when done.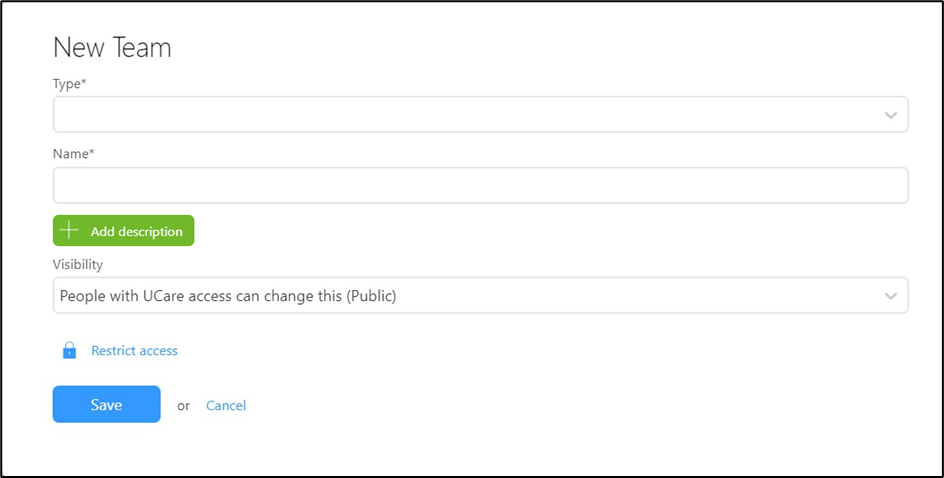 Once your team is created, you can find it by clicking Teams on the navbar: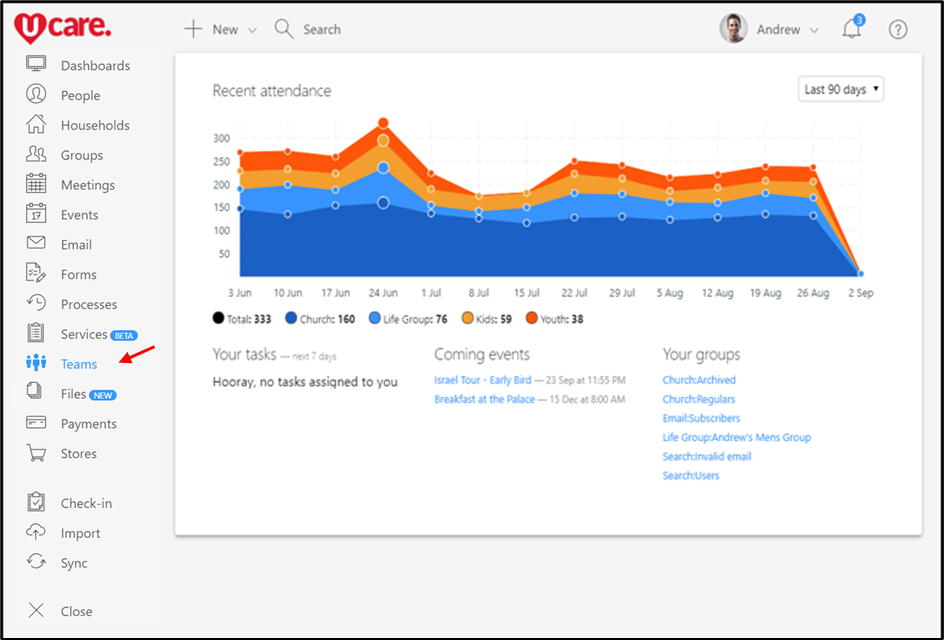 You can use the dropdown to filter your Teams by type. Select a Team to edit and add skills and people to the Team. For this example, we'll be setting this up for the Band.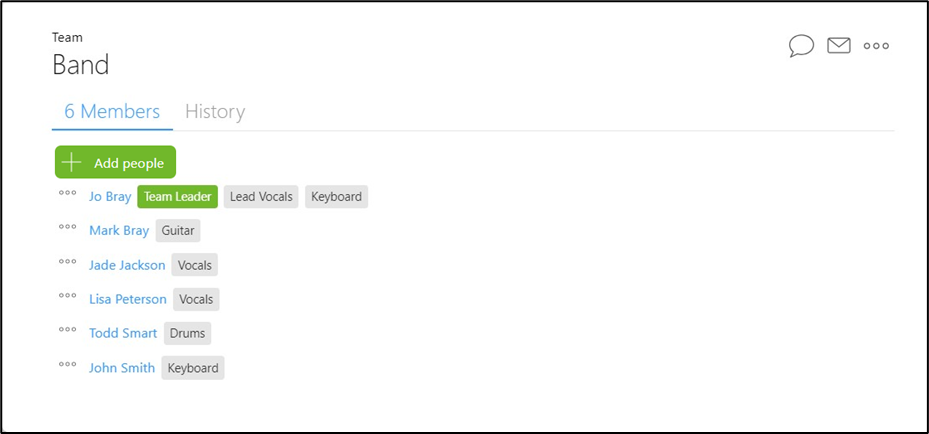 Use the + Add people button to add people to the team.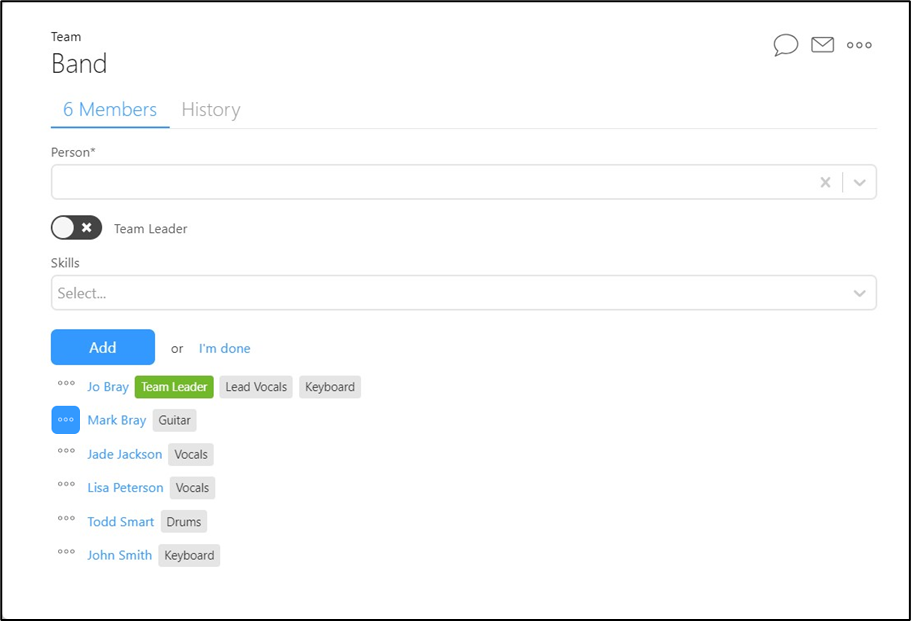 From here, you can choose the People you want to put into the Team; this will link to their UCare profile. Use the toggle to specify your Team Leader/s. Select skills from the Skills dropdown or type them in the field to add new skills to assign. Click the Add button to add the Person to the Team.
When skills have been set, they will appear as tags next to the Person's name. Use the options button to edit a Person's Skills or assign new Team Leaders.
Once you've set up your teams, you can roster them in your Service plans.
Services & Files
Services allows you to create a service plan to ensure your Meetings run smoothly. Using Services, you can set the minute-to-minute structure of your Service, roster your serving teams, send them requests and attach any necessary files that might be needed. Files is a simple feature to use; we will cover that first.
To add a new File, click +New → File: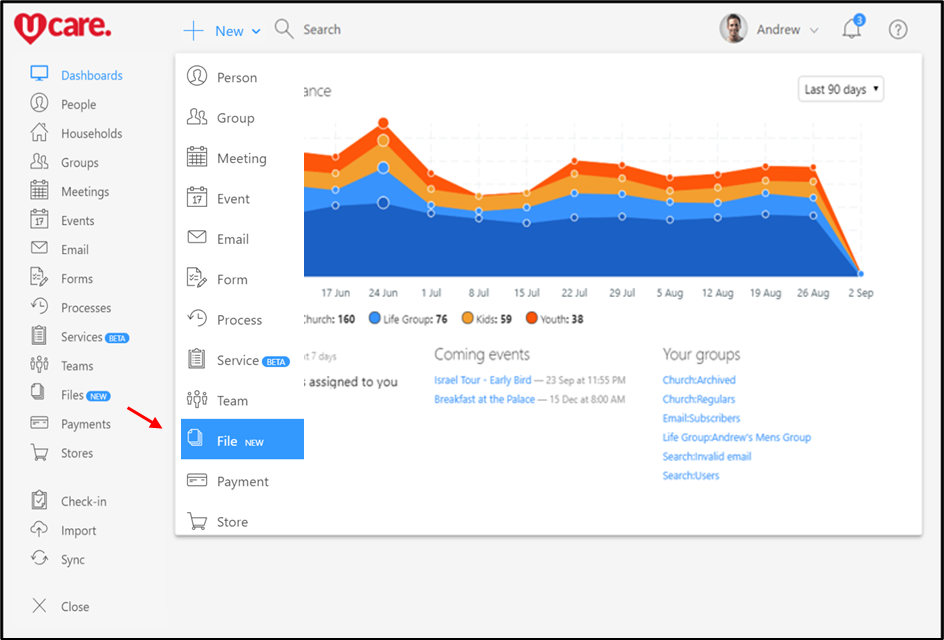 From here, you can specify the file Type and add Tags to make it easier to identify and find. Tags will appear next to the File name. Click the Cloud icon to find the files you wish to upload or drag and drop.
Specify your security access to restrict access to the Files and click Save to finalize the upload.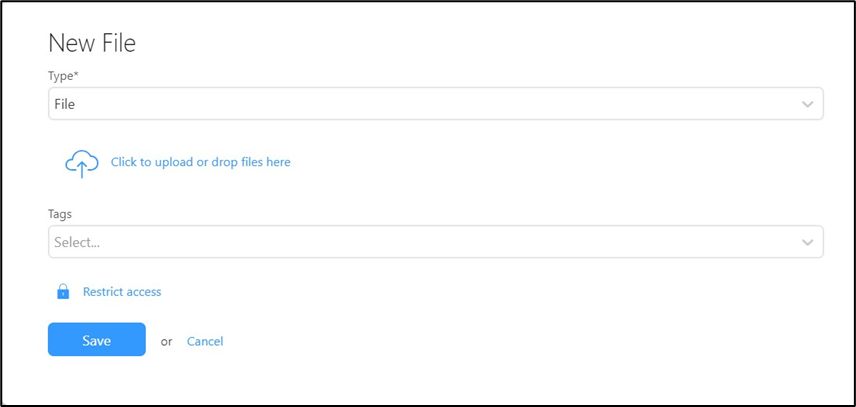 Once files have been uploaded, you can access them by clicking Files on the navbar: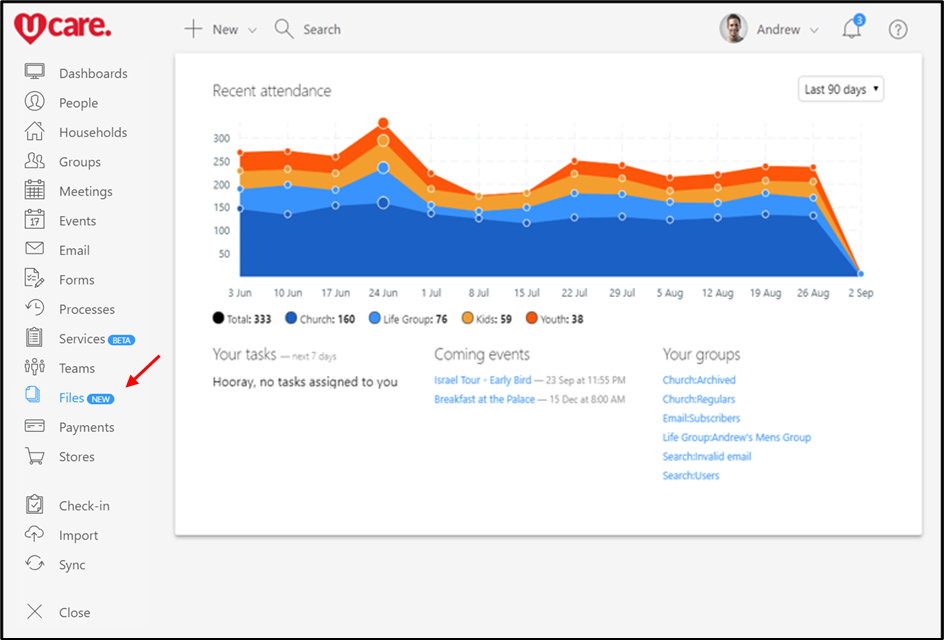 Your files can be accessed here. You can also add files from this page should you need to; just click the + New file button.

Now let's look at getting your Service plans underway.
To create a new Service plan, click +New → Service: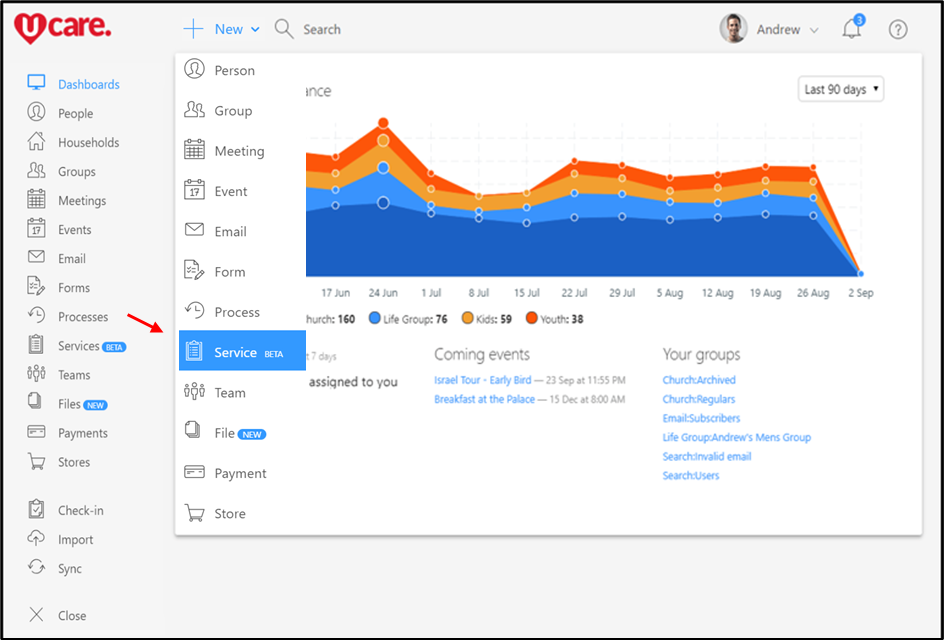 From here, you can specify the details of the Service plan.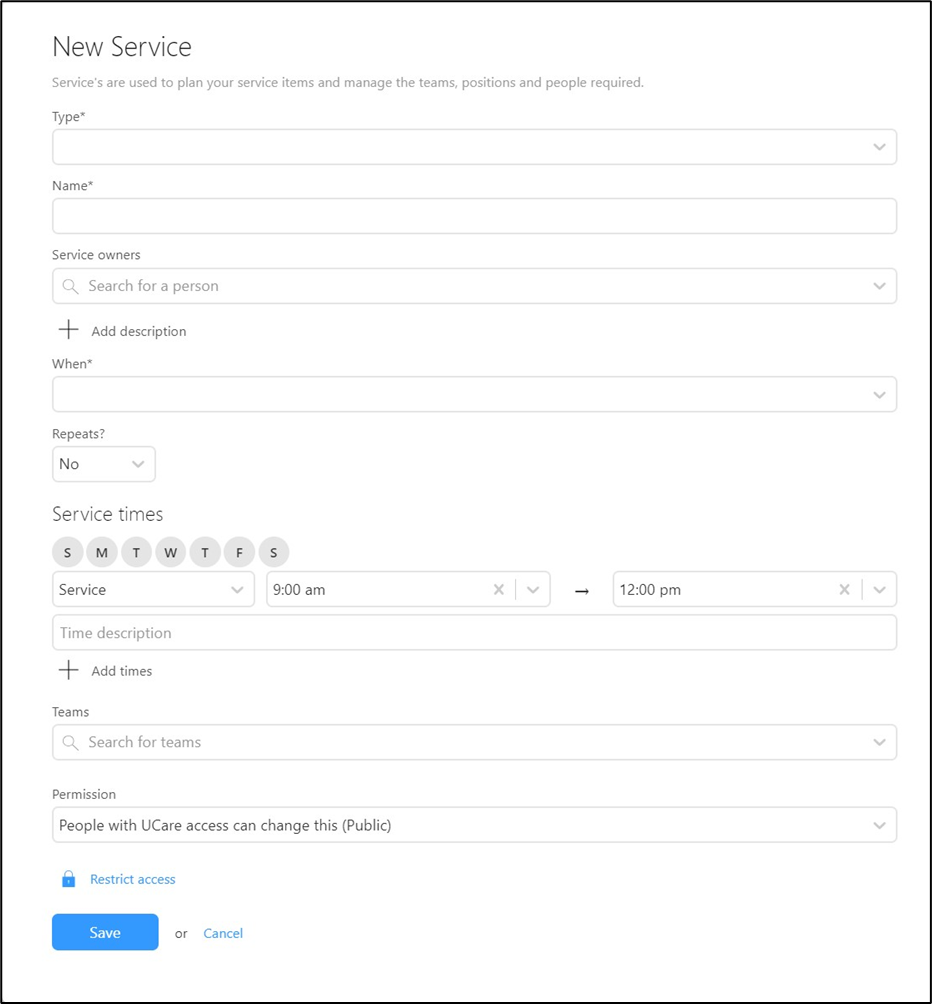 You can set the Service Type, Name and Service Owners and add a description. These options are standard across most features in UCare, so we'll move on to the more essential aspects of Services.
Using the When dropdown will bring up a calendar, allowing you to set the first date for the Service.
Once a date has been set, you can specify how often you want the Service to repeat: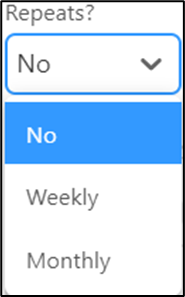 You can then choose the day and service time and set a Service Description:

You can use the dropdown to add multiple Times to a Service to allow for rehearsals or any other type of Service-related gathering: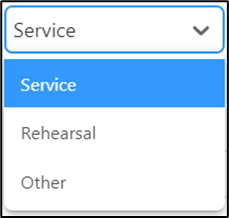 Click + Add time to add it to the Service plan.
Your added times will be displayed just below:

Your service times will display in grey on this screen; however, once this part is complete, they will show in different colors to differentiate between Services, Rehearsals and Other.
Use the Teams dropdown to specify which teams you wish to schedule for the Service. We'll select the Team we created earlier.

Set your permissions and Security access. Click Save to finalize the creation of your Service.
Once your Service is created, you can access it by clicking Services on the navbar: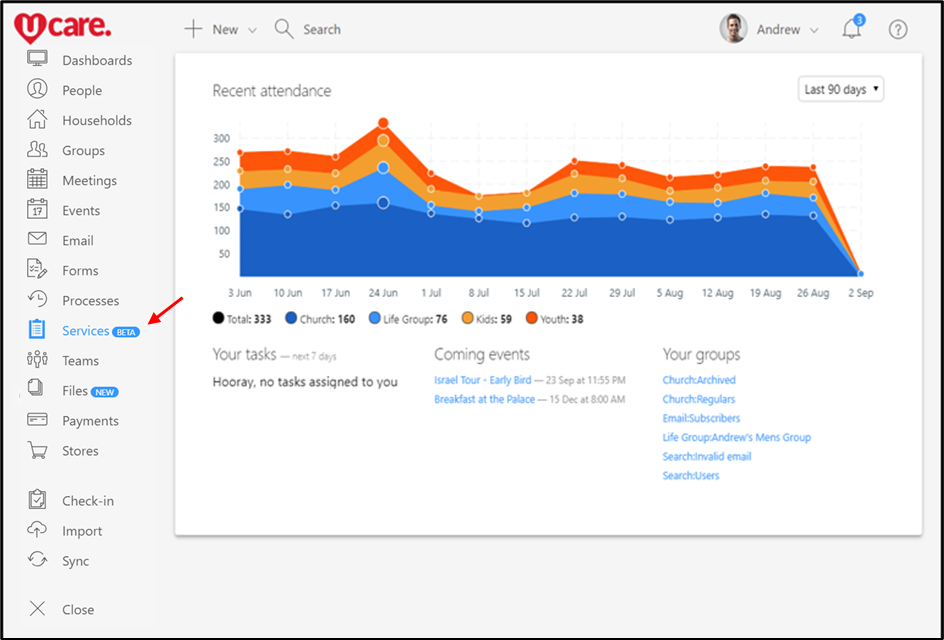 Your Services will display by Type; the Type dropdown filters your Services. Click the Service plan you'd like to edit.
You will see the times at the top of the page in the Service plan if you had multiple service times. Service Types will show in three colors: Green for Services, Blue for Rehearsals, and Orange for Other types, as well as specify the Service Owner: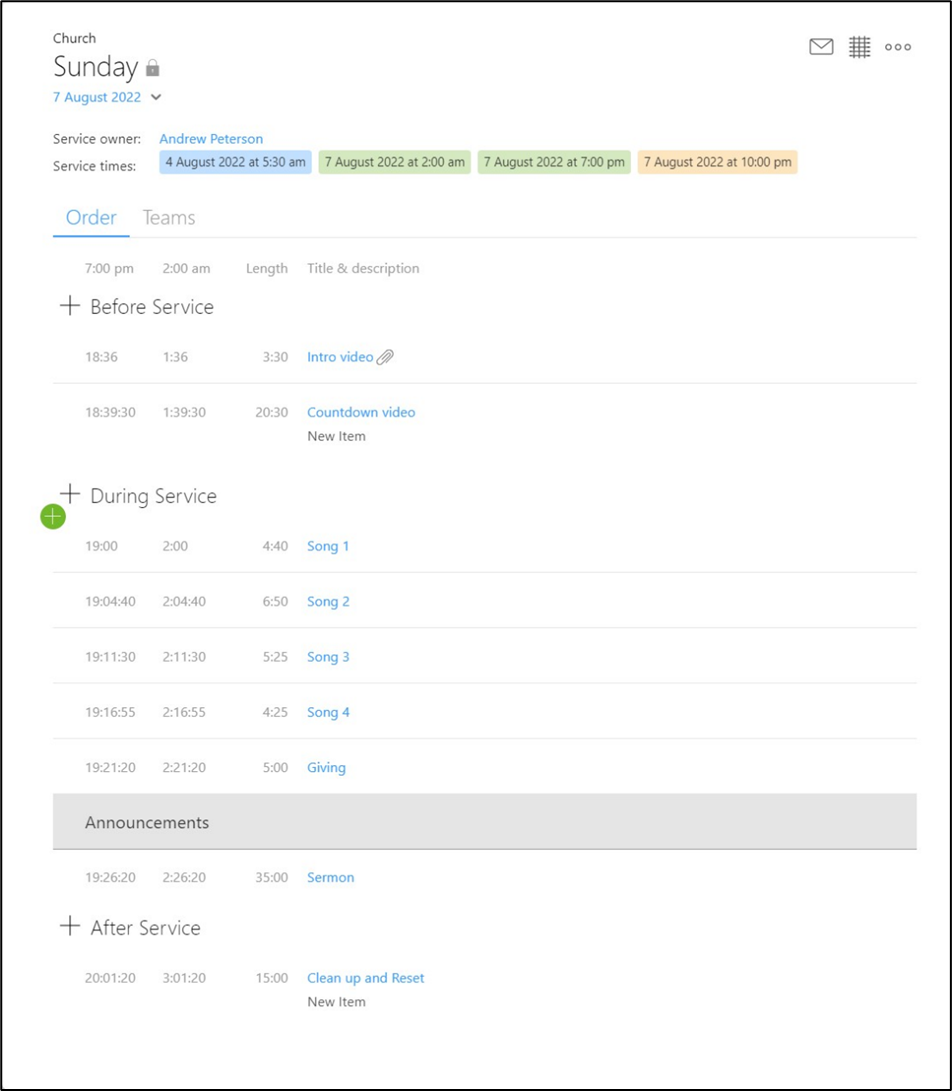 Before we look at the service order, let's assign some of the Teams we've created. Click the Teams tab just below the service times. The Teams you have made in UCare will display as headings under this tab.

For this example, let's add some band members. To add members, click the + Team: Band button and some dropdowns will display. Here, you can specify what positions you need and the skills required to fill them.

Click the Add button to add the position. Once the position is created, you can then search for a person to add who has the required skills; a dropdown will show you who is suitable and who lacks the skills to fill the position.
Using this same method, you can add multiple positions. Add them and roster your team members as required.
Next, click back to the Order tab. You can create headers to break up your service plan as required and add items under each heading.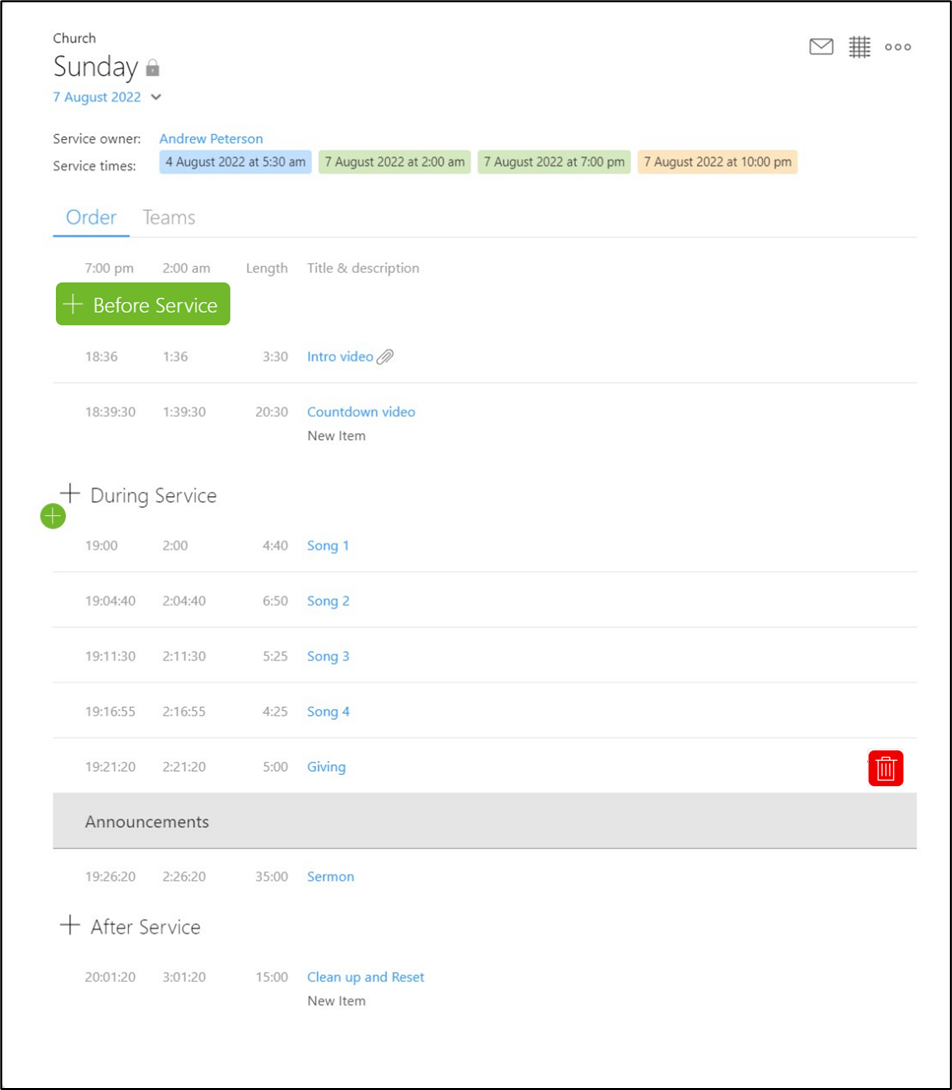 Click a heading to add a new item to each section. For example, to add an item Before the service, click the + Before Service heading. Once an item is added, you can click it to customize it.
You can delete an item at any point by clicking the Bin icon to the right of an item.
When you click an item, you can set a name, description, and time length and attach any files you might need, e.g., song charts.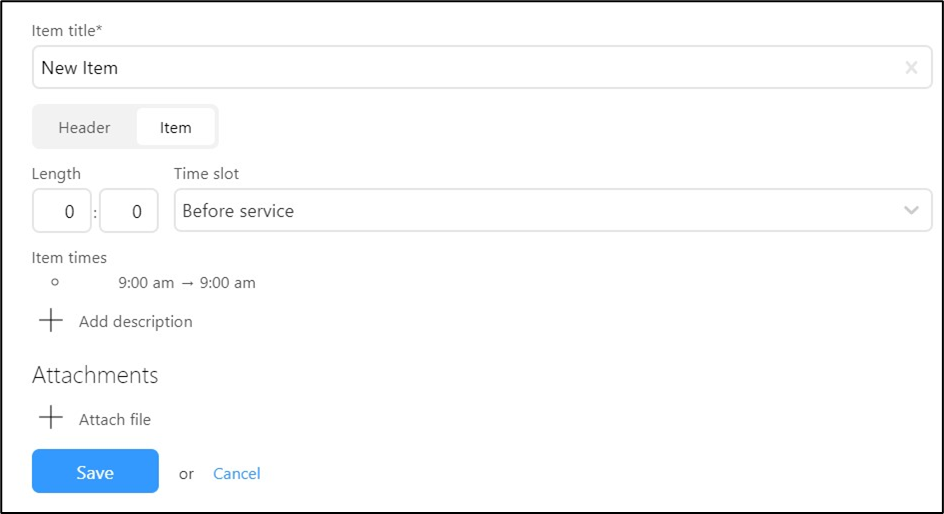 If you need to add another Header, simply click Header beneath the Item title.
If you want to add an item to a specific point in your Service, hover the cursor over an existing item, and a green plus sign will appear. You can place the new item before or after the current item by clicking the + above or below.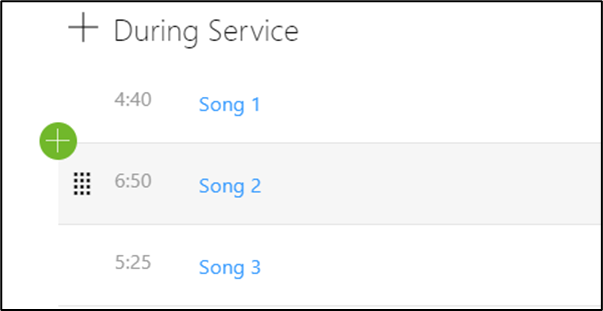 Once your plan is complete, if you have set it to repeat, you can access your plans using the date dropdown. This will allow you to set your plans in advance.
Alternatively, you can use the Service Planner. This is a handy tool that gives you a top-down view of plans. To use the Service Planner, click the icon in the top right.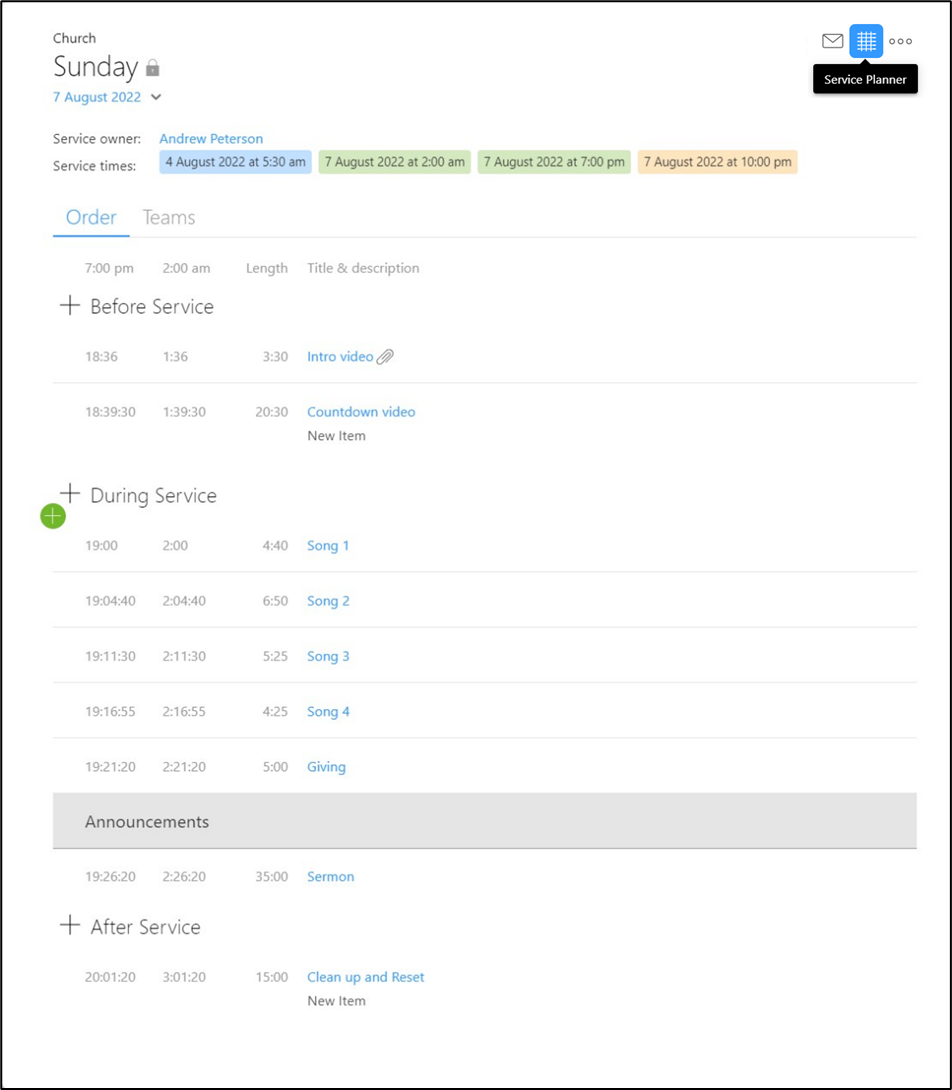 Use the + icon in the top right to add the service dates you want to view. In this view, much of the planning process will function the same, with the additional benefit of being able to drag and drop items.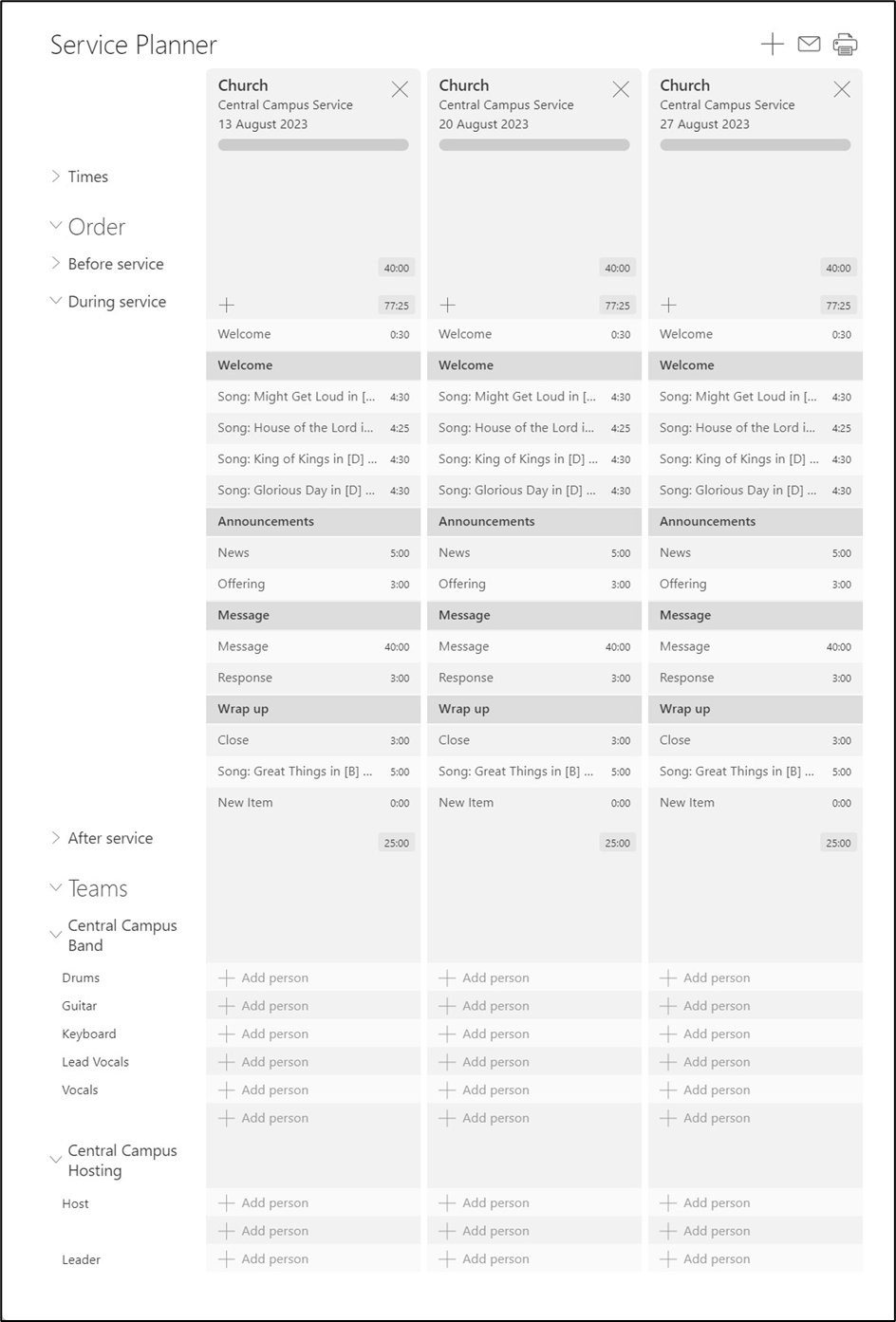 Once your plans have been completed, you can send service requests to the rostered Teams using the Email icon in the top right. Doing so will open an email you can edit and send to the Team.
Service Notifications
Once requests have been sent out, your Teams can respond. This will allow the people serving to View the Service plan, Accept or Decline requests to serve and + Add any unavailability dates.
When a service request is sent to someone, the email will look something like this: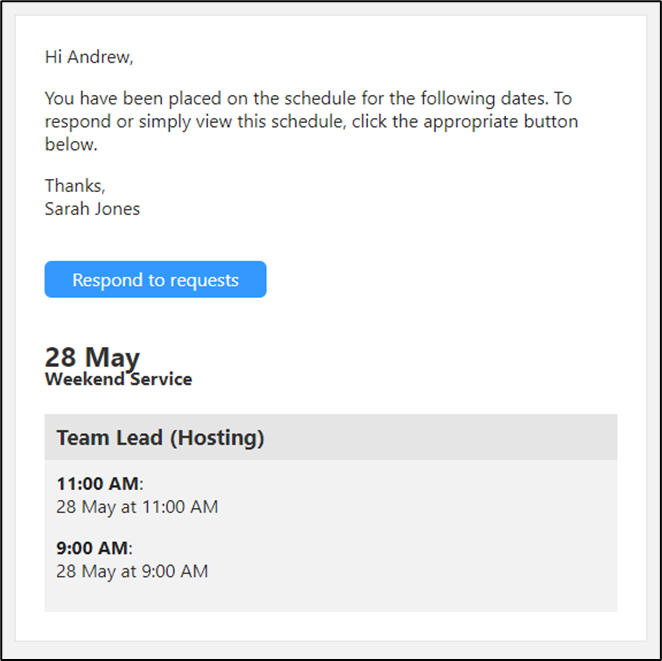 Clicking Respond to requests will take the person directly to their service requests: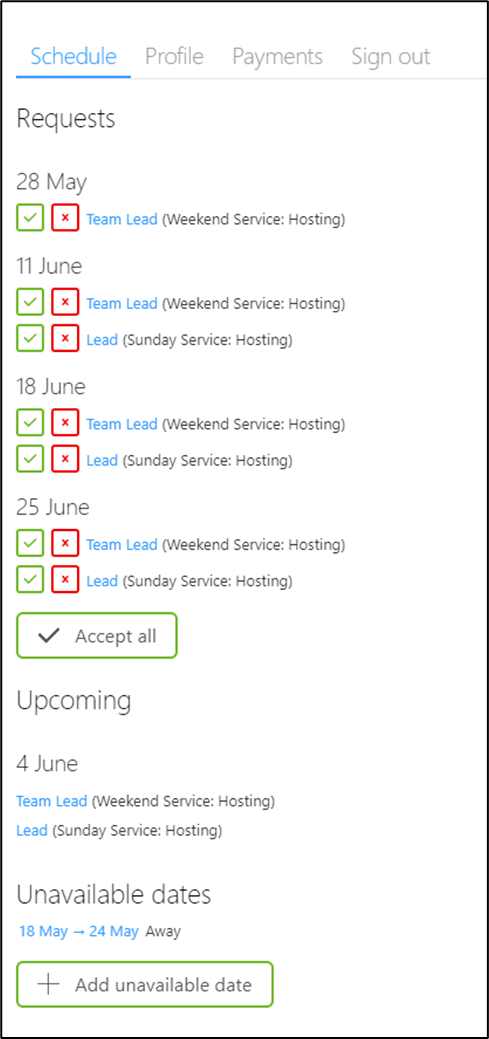 Clicking a position title will provide more detail regarding the Service schedule. For example, if we click Lead, the following plan displays: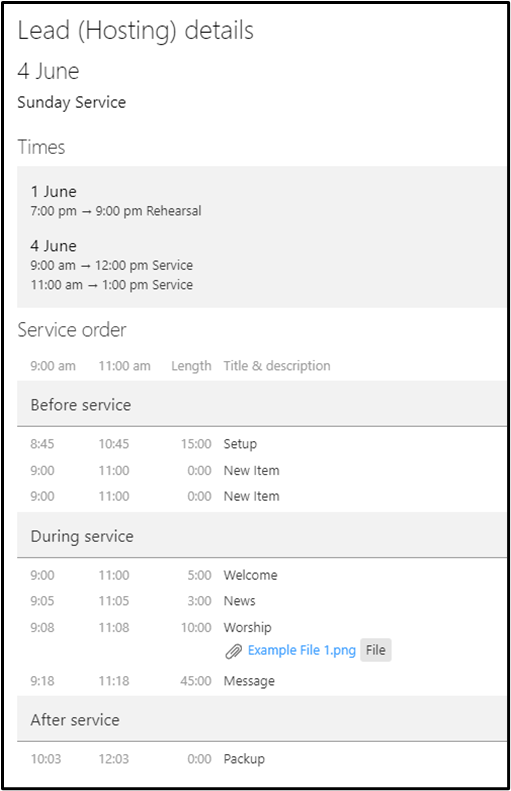 Once a service request has been accepted, an email reminder will be sent 48 hours before the Service.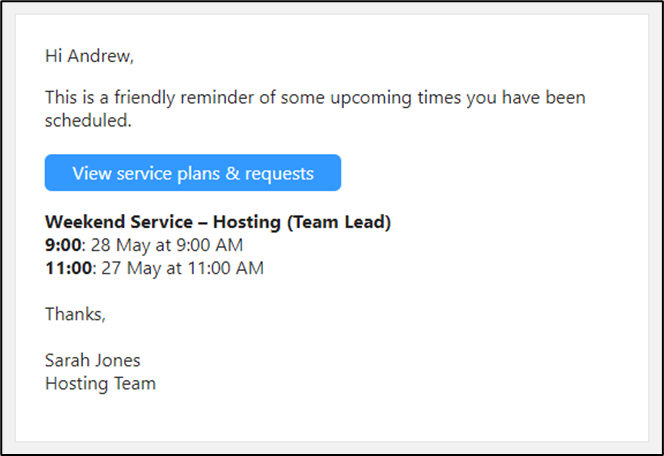 In the Multi-planner, people's names will appear in Red if they declined a service request or Orange if they have been notified and are yet to respond. If they have accepted a service request, their name will appear with a green tick ✓.
Now that your Service plans are ready, we will look at your midweek Groups and how to use Search Groups in the next Part.