If you are an admin, then at the top right of the screen, tap on your name and tap Subscription in the menu.
The subscription page is where you change your UCare edition, account managers, and payment method. You will also find discount options for annual and tri-annual subscription payments.
Edition
The first tab on the subscription page includes information on the cost of your next invoice and allows you to upgrade or downgrade the edition of UCare that your church uses. The Edition tab also has options to select an annual or tri-annual payment discount or to cancel the account.
If you keep scrolling down the page, you will find a list of frequently asked questions and then a detailed comparison of each edition of UCare.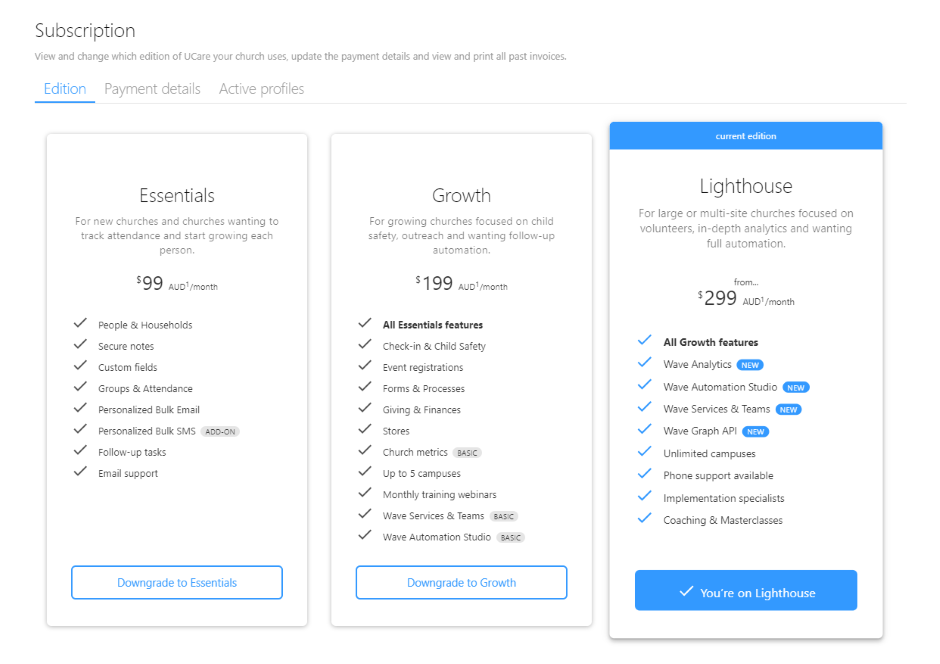 Payment details
Account managers are the people who are responsible for the account. This allows them to upgrade, downgrade, or cancel the account.
You can also enter details that you want to appear on your invoice, for example, your church tax number.
If payment for your account is due, you will be able to enter a payment method that will be charged each month.
Tip: If you are currently trialing UCare and want to activate your account right away, then contact support@ucarehq.com so our team can assist. If your trial has not finished yet, then you won't be invoiced until your trial ends.
Note: Because of various payment restrictions on iOS and Android devices, we can not accept payments in the phone app. Instead, you'll need to open UCare in your web browser and enter your payment method.
Card payment method
The card payment method is available to all churches and supports Credit and Debit cards from American Express. Mastercard and Visa.
You can either enter your card details or if you have them saved on your computer or mobile device, a "Pay now" button is available and allows secure, one-tap payment. On macOS and iOS, an Apple Pay button will show.
Tip: If your card payment fails then, please contact your bank to find out why. We don't have visibility on why payments are failing, but some common reasons are that the card hasn't been activated, has been reported as stolen, the Zip / Postal code doesn't match the card, or your bank has blocked the card from being charged by an Australian company.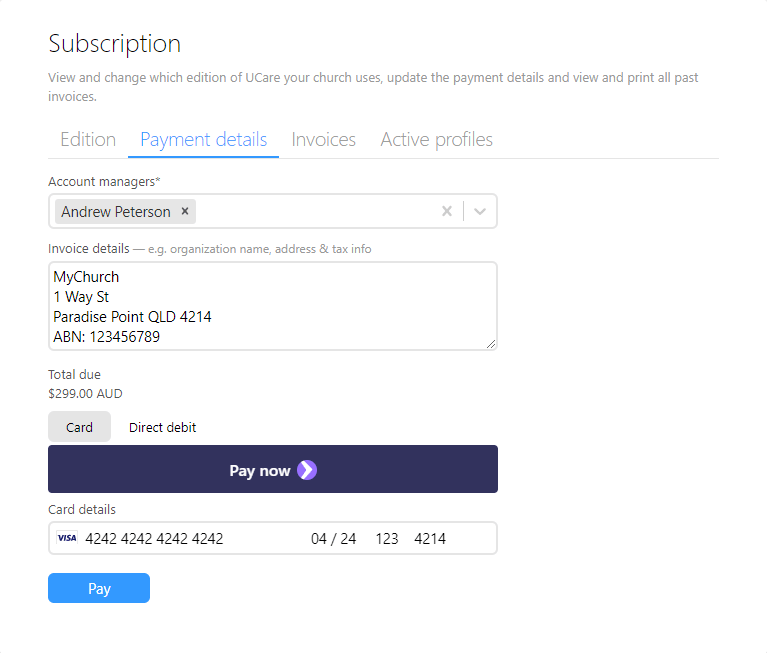 Direct debit payment method
Our Australian churches can alternatively use the Direct debit payment method. By entering the BSB and account number for your church bank account, we can charge your bank account each month. This is a great option for churches that don't readily have access to a credit card.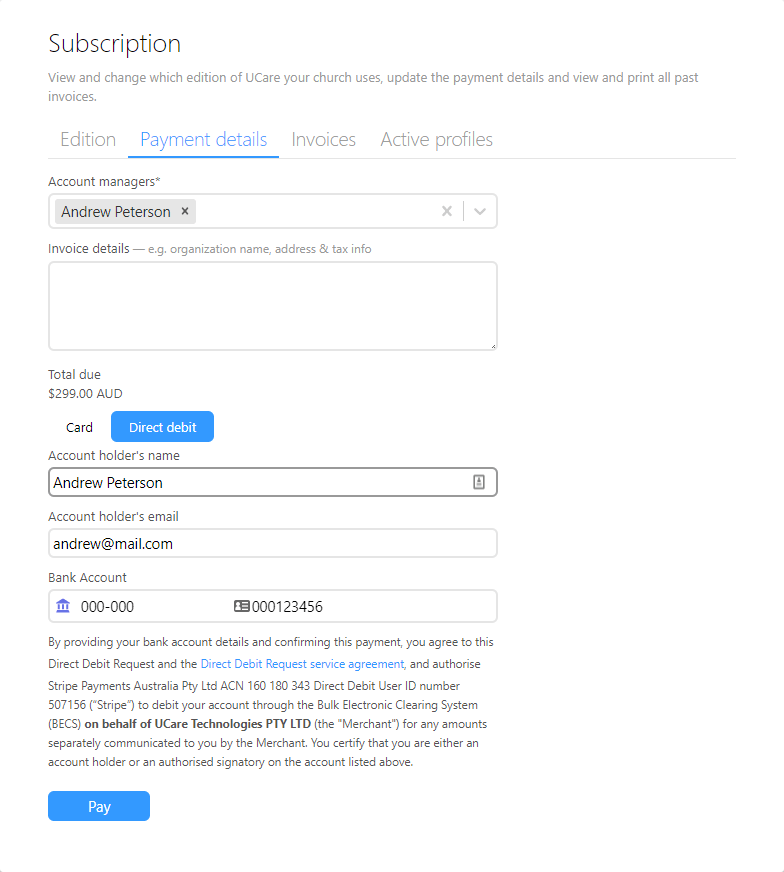 Invoices
You will receive an email invoice each time you are charged. Pending and past invoices are also available on the Invoices tab. Tap on any of the invoices to view and print if required.

Active profiles
Billing in UCare is based on the number of active profiles. An active person is anyone who is in a Public group or has had their attendance recorded three or more times in 60 days. This means that visitors will not be charged for as they aren't active unless they start attending regularly.
From time to time people will stop attending your church and you will want to remove them from your list of active people. Select one or more people, then tap Actions > Archive.
You can still email archived people about special events, and if they return and record their attendance three times then they will again become active.