At the top right of the screen, tap on your name and tap Settings in the menu, then on the settings page tap Forms.
Forms are great for ensuring the right information is collected from the right people. They also connect with processes and automation to unlock the power of UCare.
At UCare, we understand that every church has different needs. That's why you can replace many of the default UCare forms with a custom one, allowing you to collect the additional information and tailor UCare to suit each ministry perfectly.
To customise these forms, go to Settings > Forms, and you can create custom forms by tapping + New at the top of the UCare screen and then tap Form.
People forms
You can customise two forms for people; the first option replaces the default New > Person form. When people receive sent from UCare, it can have a link to update their details; the second people form option allows you to replace that Form.

Group forms
The Published Groups Page has a "Contact group leader" form; use this field to replace the default form and allow people to add additional information when contacting small group leaders.

Attendance report forms
There are three forms on attendance reports, one to add new people, one to add meeting notes and one to add notes for each person (e.g. prayer requests). The three fields in the attendance reports section all you to replace these three forms.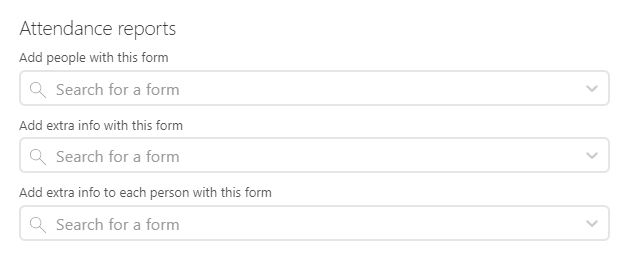 Check-in forms
There are three forms you can customise for Check-in.
The "Add people in assisted check-in" field allows you to set the Form to use when adding people to an existing household; this only applies in assisted check-in.
Use the "Add household in assisted check-in" field to customise the Form when adding new households to assisted check-in.
And the last field is used to set the Form when adding new people to the Attendance Roll.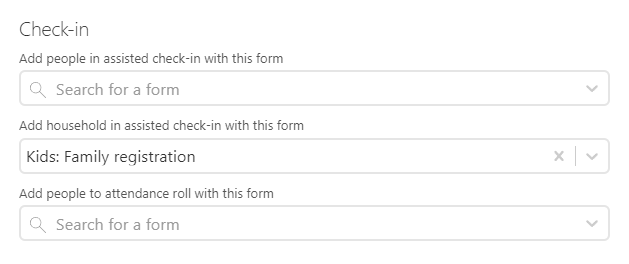 Meeting forms
There is a New person option at the top of the list of participants in a meeting; use this option to set a custom Form and ensure the collection of the correct information when adding people or households on meeting pages.

Published meeting forms
When joining a published meeting, people have forms to register their family, add people to their household or add extra info for each person (e.g. prayer requests). Use the fields in the Published meetings section to optionally replace the default forms with custom forms.