Being able to quickly find someone on UCare during check in, when registering for an event or buying a product can be crucial when you have a large number of people. To help with this UCare supports assigning a code to each person which can be used to quickly find them on UCare. Barcodes and RFID tags are two cost effective options for making good use of easy to scan codes. Please contact support to find out more and to ask about pricing.
Barcode key tags
Barcode key tags a familiar to many people and are used by many businesses (like fitness clubs) to make it quick and easy to access members benefits. They can be customized with your church logo and contact info to help people stay in touch and feel a part of your church.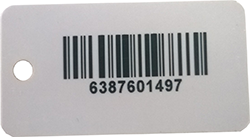 RFID key tags
For some people barcodes have a negative connotation to them, if this is seen as a potential problem for your church then you could consider RFID tags instead. While slightly more expensive, RFID tags are actually easier, faster and more reliable to scan.