Once one or more payments are selected tap Actions > Payment statements. 
For each of the selected payments a summary statement will be generated for each person that made one or more payments. Change the payments included in the statements by adjusting the Date range the payment tags and the selected payments.
The first drop down has three options. Either email statements to people with a valid email, generate a printable statement for all selected people. The default option is to email the statement to people with a email and generate a printable statement for people who don't have a valid email.
Enter a message that will be included in the statement that each person receives. The From drop down specifies the email address to send email from, use the Template drop down to select the design template to format the email with. If statements are being Generated then the email options will disappear.
Once the desired options have been selected tap the Send & Generate button and the statements will be generated and emailed to each person with a valid email. A link to the printable statements for people without a valid email will also appear, tap this and print.
Tip: Click the checkbox at the top of the list of payments to select all the currently displayed payments and display the Actions menu.
Tip: Enter an email address in the BCC field to send a copy of each email statement to that email address, this can be very useful if you need to retain a copy of the emailed statements.
Tip: To test the sending of email statements select the "Only send statements to the BCC address" option. This will only send the statements to the BCC address and not to the people who made the payments.
Tip: If you need to send a statement to just one person then these same options can be found on the Payments tab of each person's profile.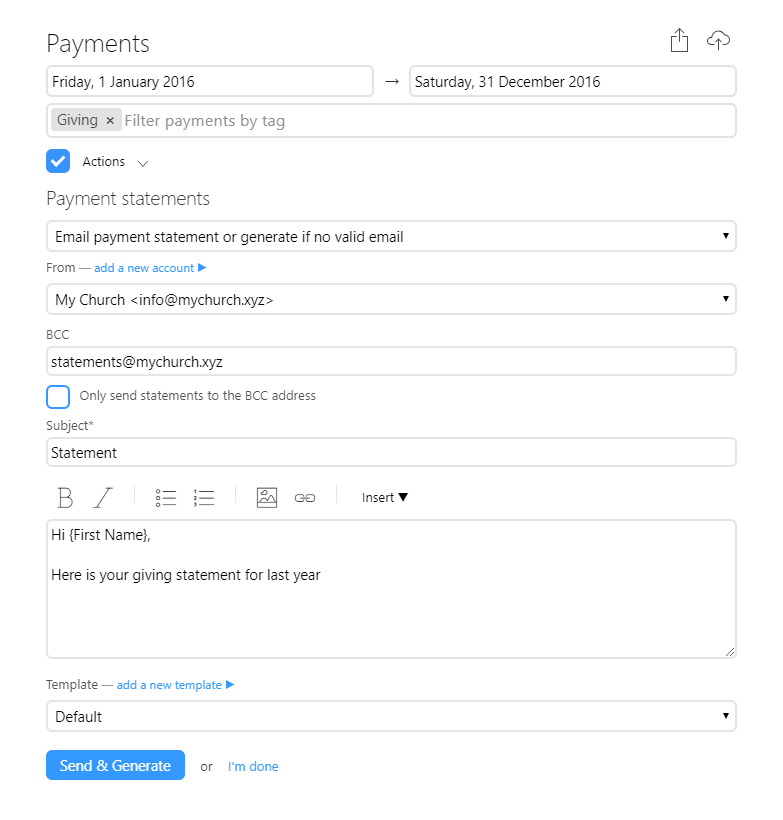 Example statement