Event ticket types can be found on the corresponding event page. Some examples of ticket types you may want are "General Admission", VIP, "Dietary Requirements", "Under 12s", and "Restricted mobility". If your event is at a larger venue with seating sections, then Sections A, B, C, D, etc., may also be appropriate.
The Allocated progress bar displays the number of tickets allocated. Likewise, the refunded progress bar shows how many tickets are refunded. The last progress bar, "Checked in," displays the total number of people checked in by having their tickets scanned. Learn more about checking-in attendees.
Tip: When tickets are free, people often don't turn up for events making it hard to manage seating levels. A simple answer to this problem is to charge a small amount for tickets and then refund the tickets at the end of the night. You may even suggest to attendees on the night that not refunding their tickets is an easy way to support the event. The refund progress bar easily tracks the number of refunded tickets.
Tip: Hovering or tapping the photo will display options to change, edit or delete the photo, and on tablets and phones, you can change the photo using the camera. This photo will be used to create tickets; 2000 pixels by 700 pixels is a good image size for ticket labels.
Note: Refunded bookings are still counted in the total number of bookings. Delete the bookings to remove them from the booking totals.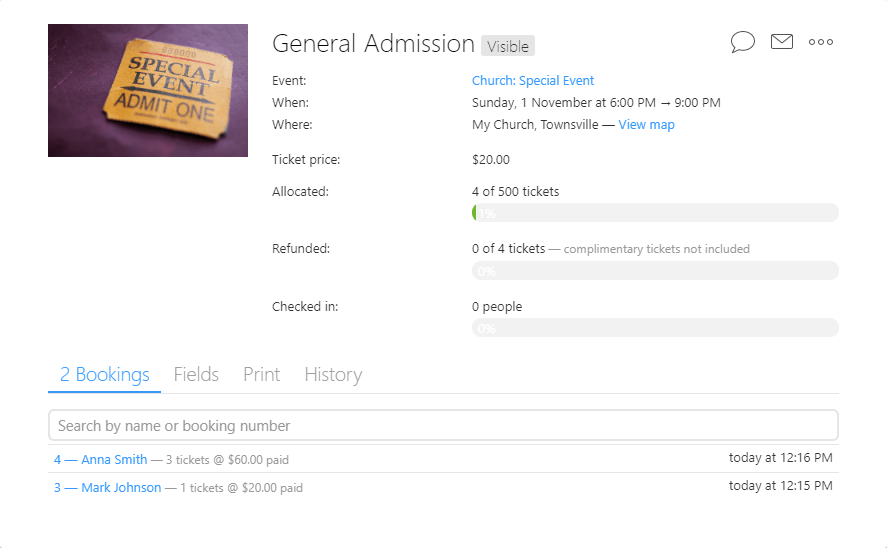 The top right commands include the following options depending on your access level. These options may be displayed under the ... options button if you are using a device with a small screen:
Edit ticket type
Duplicate ticket type
Merge ticket type - this can be useful if you need to remove a ticket type without losing the bookings.
Delete
Fields
Add extra fields to collect extra information with each ticket. For example, you may need to know dietary requirements, or if the ticket is for children, you may need to know each child's name and birthday and ask for parent liability consent. The following type of fields can be added:
Name: a person's name
Email: an email address
Mobile: a mobile number
Phone: a phone number
Gender: a person's gender
Birthday: a person's birthday
Date: some other date
Text: a single line of text
Paragraph text: one or more lines of text
Choose from a list: a list of options to choose from
Checkboxes: one or more checkbox options
If a field is required, then the booking form can only be submitted with the required info. If the field name field is left blank, then the field type will be used for the field label; otherwise, you can just enter a label and any possible instructions. A default value can also be entered and prefilled each time the form is viewed.
Tip: If you want bookings to relate to a person on UCare, then make sure you add a name field plus an email, mobile, phone or birthday field. If the details entered during registration match an existing profile, the ticket would be linked to that profile. If there is no match, a new profile is created.
Note: If you need to reorder fields, you must remove the current fields that need changing and add new fields in the order you want them displayed.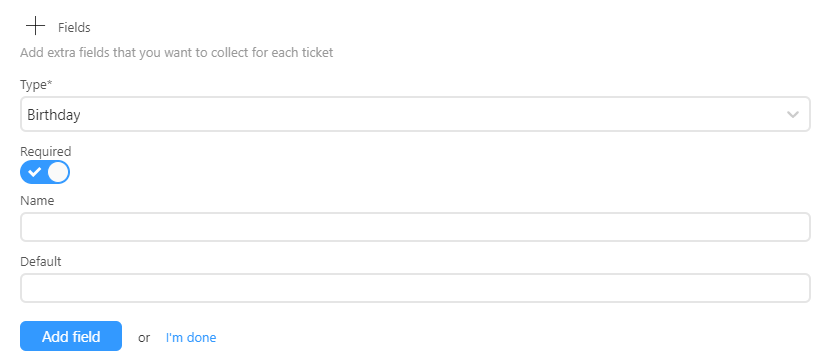 Print
You'll find options to print the ticket type attendees in the print tab, and you can either print to a PDF or a DYMO LabelWriter. The following print options are available:
Address labels - Avery Labels - Create address labels PDF for printing on Avery labels
Address labels - DYMO LabelWriter - Print address labels to a DYMO LabelWriter
Name tag labels - Avery Labels - Create name tags PDF for printing on Avery labels
Name tag labels - DYMO LabelWriter - Print name tags to a DYMO LabelWriter
Check-in labels - Avery Labels - Create check-in name tags and security tickets PDF for printing on Avery labels
Check-in labels - DYMO LabelWriter - Print check-in name tags and security tickets to a DYMO LabelWriter
The following Avery label sizes are available:
Avery Labels L7159 - 3 x 8
Avery Labels L7160 - 3 x 7
Avery Labels L7169 - 2 x 4
Avery Labels L7173 - 2 x 5
Avery US Labels L5363 - 3 x 8
Avery US Labels L5360 - 3 x 7
Avery US Labels L5163 - 2 x 5
Tip: You can use Name tag labels - Avery Labels with the Avery 2 x 5 size to create name tags inside lanyards. The name tag can include a barcode to make it quick and easy to look up the attendee in UCare if they want to make a purchase or re-register. Selecting Print a border around labels will add a border you can use as crop marks.
Tip: If you have recorded allergies and want that info printed on labels, ensure the "Print check-in info" option is selected.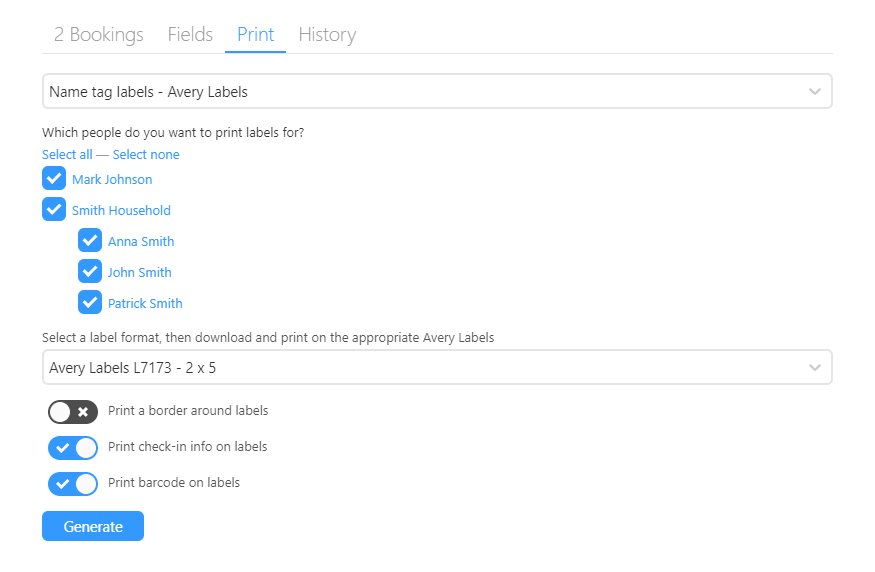 History
If you are an admin, the history tab displays all the people that have viewed this ticket type and all the changes made. For non-admins, the history tab show's all your updates to the ticket type.