UCare Events is the best way to solve the problem of doing church but keeping the right attendance numbers and details while being responsible during social distancing.
Who would have thought we would be trying to limit the number of people attending church? But many churches have not been able to gather over the last few and are keen to work out how best to comply with restrictions so that they can start meeting again.
The laws and restrictions that each church needs to comply with will be different, but one common theme is how we limit how many people attend while also tracking who attends. The need for a contactless option is vital to avoid infection risks.
We have received many support questions about using Check-in to track attendance, this is an option, but it does not allow you to restrict who is attending. It also does not allow you to provide contactless check-in for new people who need to register.
UCare Events solve the need to limit the number of people attending. When people register, UCare sends tickets that have a QR code, allowing you to use the UCare app to scan tickets on arrival and record attendance. Scanning tickets quickly is vital as it reduces check-in line length, helping with social distancing.
This guide walks you through setting up events, collecting registrations, and checking people into services.
Create an event
You will need the Event permission to be able to create events. If you have this permission, then at the top of the screen, click New > Event. 
Enter the event type (i.e., category) of your event. "Church" is common, or if you have multiple locations, then the campus name. Next, name your service, for example, "Service" or "AM Service."

Select the service time and "Weekly" on Sunday for how often the event repeats. If your event finishes at 11 am on Sunday, then that is when UCare creates the next event, allowing people to register for the following week.

Tip: If you want people to be able to register more than a week in advance, then after saving the event, click "create next event" (next to the event date), and UCare will create the event for the following week. Repeat this to create as many events as you like.
Enter your church location in the Where field, allowing new people to get a map link on the registration page.
Ensure "Visibility" is "Publish to external listings," then enter a description for the event. The description should include any information you need to communicate to people about the service and any restrictions they must abide by. The confirmation message is displayed after registration, so put more detailed information about conditions and attending church under the Confirmation message.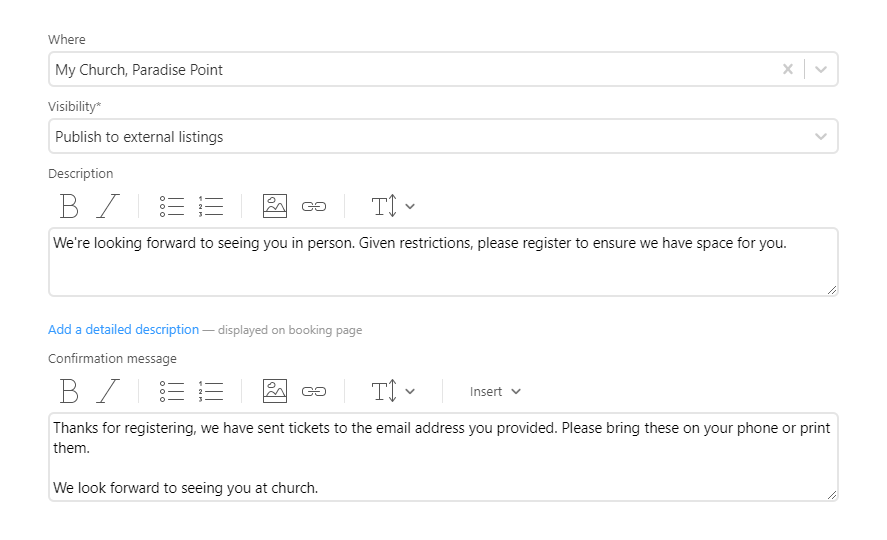 Enable the Email confirmation option. With this option enabled, UCare sends a confirmation email (including tickets) to the person who registers. You likely won't be charging for tickets, so the invoice info field can be left blank.
Before you can save the event, you need to upload a promotional picture; this is displayed on the registration page. Your church logo is a great option.
The remaining fields can be left blank, so click Save to create the event.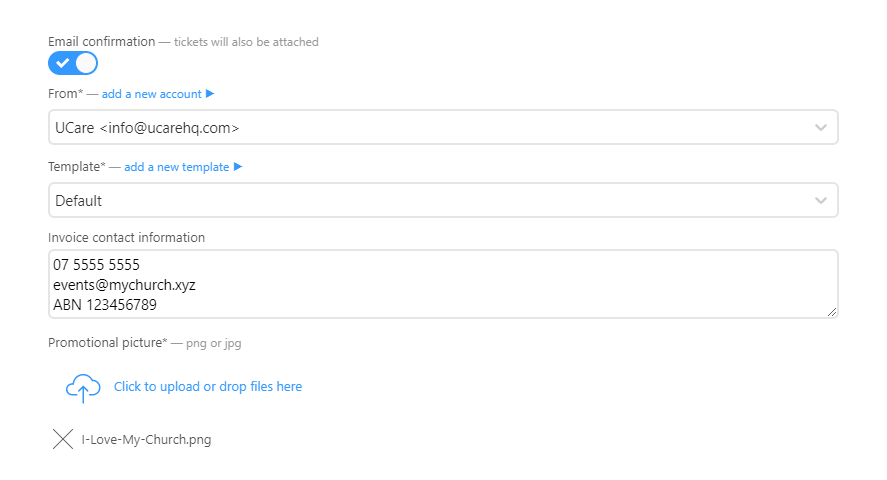 Create ticket types
You can create multiple ticket types, but you need at least one to enable people to register. The ticket type allows you to limit how many seats are available and also what information people need to provide.
You'll probably create a "Main Service" or Adult ticket type. If you provide separate children's services, then you should also create a ticket type for each of your children's programs.
Enter the name of the ticket type, how many tickets (i.e., seats) are available, and ensure "Visible" is enabled.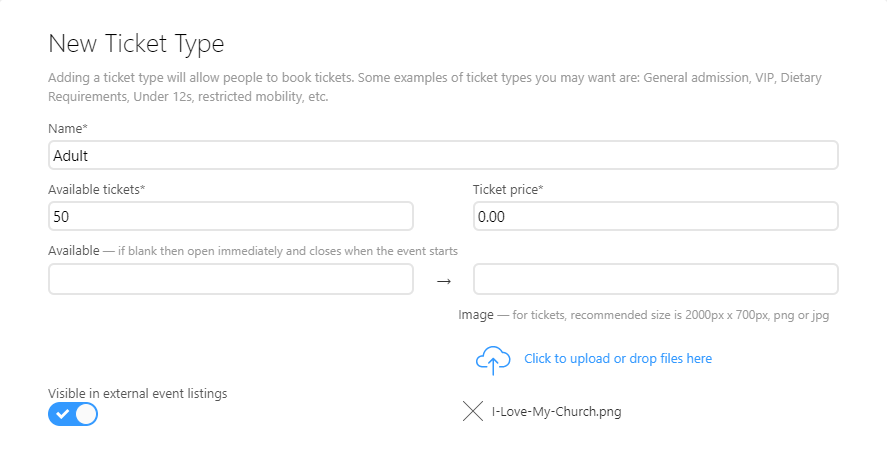 The Available dates can be left blank, but you should upload an image for your ticket. Your church logo may again be a great option. The image is required if you want UCare to send tickets after registration. The tickets have the QR code that you will need if you're going to do contactless check-in.
You can now save the ticket type.
Tip: Some churches must seat attendees into groups to limit infection risks. If this is your church, we recommend creating a ticket type for each grouping. We also recommend that the image you add to each ticket type has a different color, allowing you to distinguish which group families should sit in quickly.
Create ticket fields
You can skip to the next section if you only need the number of people attending and the contact info of the person registering.
Ticket fields are great for churches that must collect the details of all those attending. You add fields for the required info. Collecting the information as part of registration, you only need to scan their tickets upon arrival.
On the Fields tab of your ticket type, tap "+ Fields," ensure "Name" and "Required" are selected, then click Add field.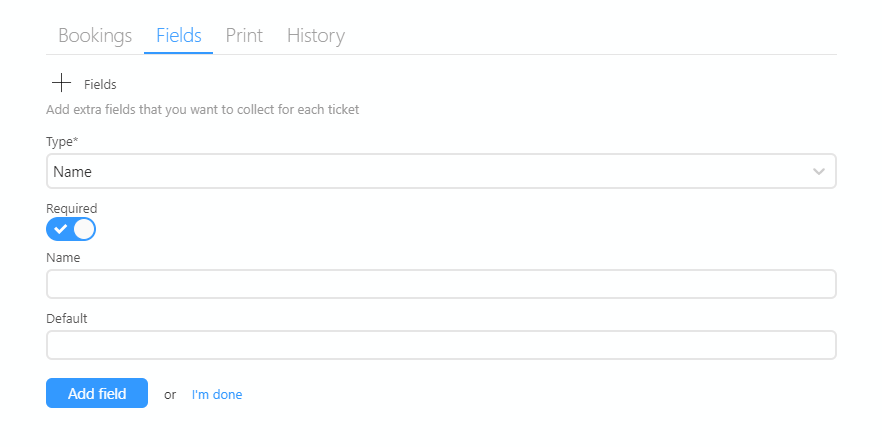 Next, add a "Mobile" field type and ensure it is required; the mobile field also accepts regular phone numbers.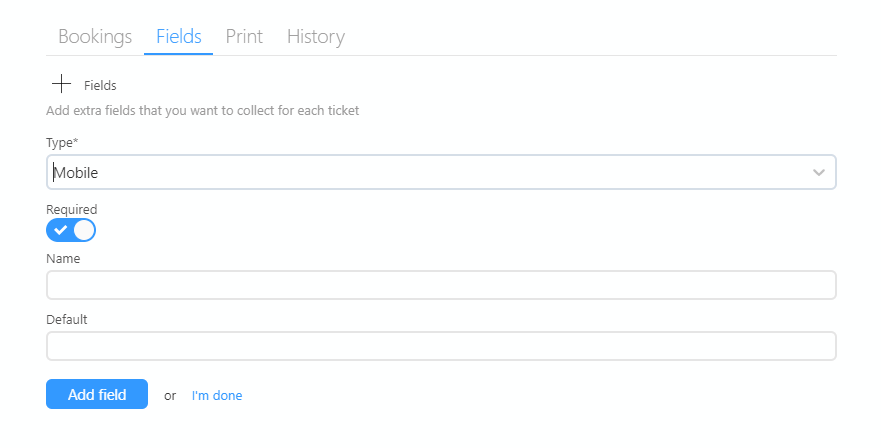 If most of your profiles in UCare have a mobile or phone number, then the mobile field will allow UCare to link the ticket to the existing profile. If UCare can't find a profile that matches, it will create a new profile; as such, you may want to add an email field so that UCare can use that info to link to existing profiles. Use the duplicate finder to check for duplicates.
Tip: If you are creating a ticket type for a children's program, then you may want to add fields for a birthday, gender, and medical info. The Medical information should be collected using a "Text" field type.
Tip: If you have multiple rooms for children, we suggest you create a ticket type for each room, allowing you to limit numbers. Use "… > Duplicate ticket type" in the top right of your ticket type to speed up ticket type creation.
Testing registrations & check-in
To ensure your services run smoothly, you should test creating a booking and checking in attendees.
You will want to test creating a booking like your people will, so go back to your event and click the Share button in the top right.

Now, copy the link and open it in a new window.

Add some tickets to the booking page, enter the required details, and click "Register Now."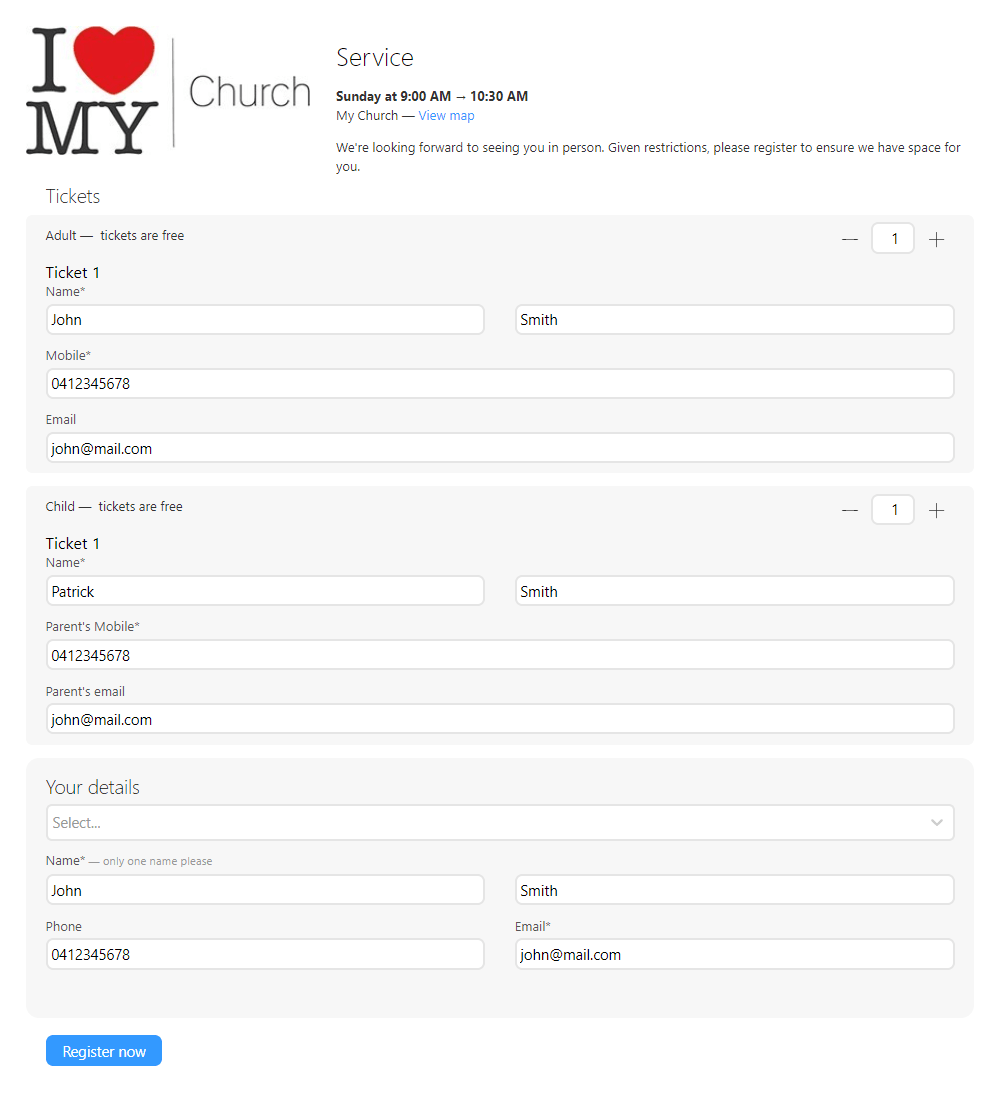 If you have created the tickets correctly, you will receive a confirmation email (including tickets). Keep the tickets handy, as you'll use those for testing. 
When you create an event, UCare also creates a meeting at the same time as the event. For testing purposes, you need to make a meeting for the possibility that has the start time set to the day you are testing check-in.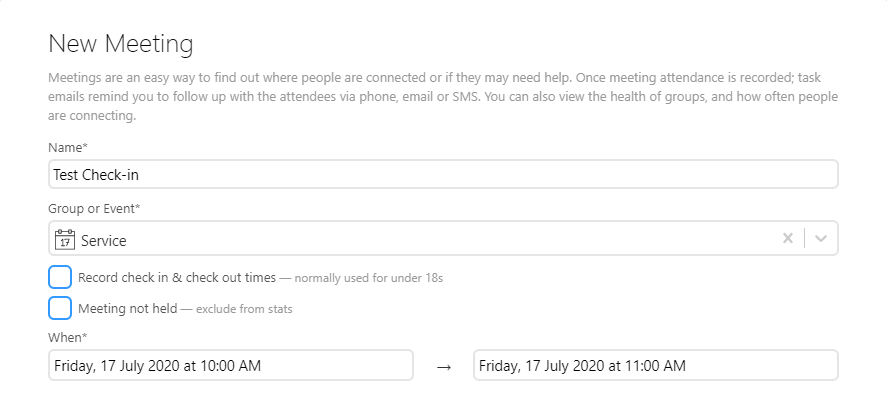 Once you have created the test meeting, open the event in the UCare app on your phone and tap "… > Check in" in the top right. If you use a device with a larger screen, the "Event Check in" button will be to the left of the ... button.
You will see a search bar on the event check-in page with a QR code icon to the right.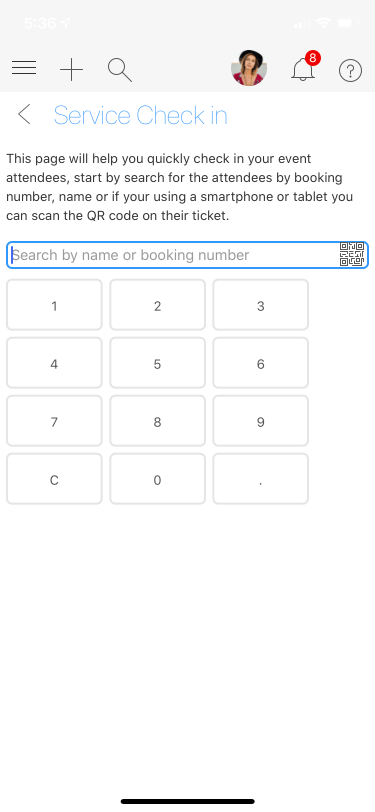 If a family can't print the tickets or display them on a smartphone, you can search for the booking by name, booking number, or phone number in the search box. But, if a family has their tickets ready, the faster option is to tap the QR code icon, which opens your camera so you can scan the tickets.
Tip: If the attendee's phone screen is too dim, you may have trouble scanning the tickets. In this case, ask the attendee to increase the brightness of their screen. 
Once you find the booking, you will see a list of tickets. Check all the tickets, but if someone registered isn't attending, uncheck their ticket.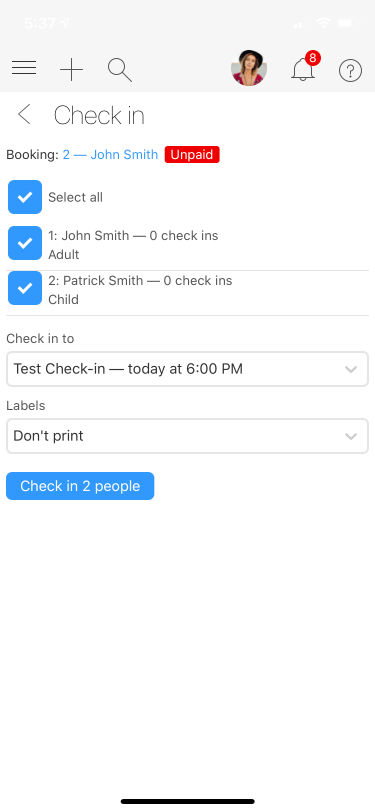 The first time you use the check-in page, you must select a meeting to add the chosen people. Subsequent tickets will remember your choices to speed up the check-in process significantly.
Once you have the correct tickets selected, tap the "Check in "button. At this point, you return to the check-in search screen.
The process should now be as simple as tapping the QR code icon, scan a ticket, select all those in attendance, tap "Check in," and repeat. You should be able to do this process in just a few seconds with a little practice.
Note that you don't have to scan each ticket; you only need to scan one ticket for each registration.
Recommendations for children
For churches running a children's program, we recommend that parents take their children to classes first. The children's team should scan tickets, but instead of checking in the entire booking, only children should be checked-in.
The event check-in page has options to print name tags, but printers are an area that may cause contamination risks, so we aren't recommending this. Instead, we have options to allow you to pre-print name tags, which can be located in each room for collection.
Printing name tags
If you still want to print name tags upon arrival, ensure you have a Check-in Station set up and connected to a printer. When you scan a ticket, the check-in page will display a list of check-in stations if you select to print name tags. With printing options selected, name tags will start printing a few seconds after you tap "Check in."
Pre-Printing name tags
The easiest way to pre-print name tags is to select the Print tab on your children's ticket type. 
First, you can connect the DYMO printer to your computer, or if you are using the UCare app, turn on your Brother Printer. If you use a Zebra printer, start the Zebra printer app.
Select the "Check in labels – DYMO LabelWriter" option on the Print tab and select all the children. Choose the upcoming meeting you want to print name tags for and the correct printer. Select the name tag label you want; many churches have only one option. You may want to uncheck the "security tickets" option, as parents can use event tickets instead.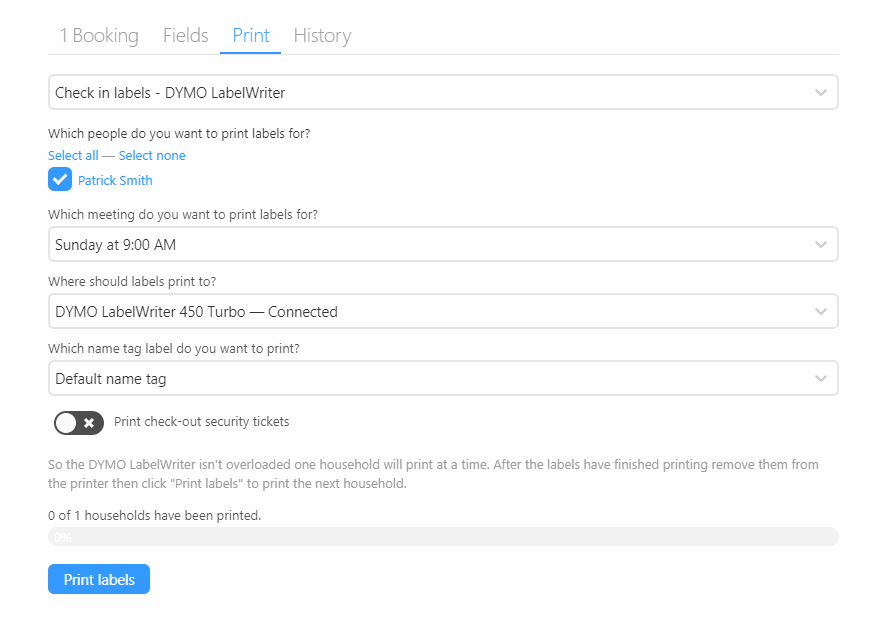 Click "Print labels," and labels for the first household will print. Printing labels one family at a time makes it easy to separate tickets by family. You can hang labels or place them separately on a table outside each room to reduce infection risks.
Publishing your events
After testing, it's time to publish your event so that people can register. As you have set your event to repeat weekly, we will look at "Published events," this option will mean you only have to publish your events once instead of each week.
You can either send a link to the list of published events or copy and add the code to your website. You can find the share options by clicking Events in the left navbar and tapping the "Share published events list" button in the top right.

You can send the "Email and Facebook" link in an email or an SMS or share it to your social channels, Facebook, for example. If you have a savvy web person or know how to update your website, copy the JavaScript embed code and add that to your site.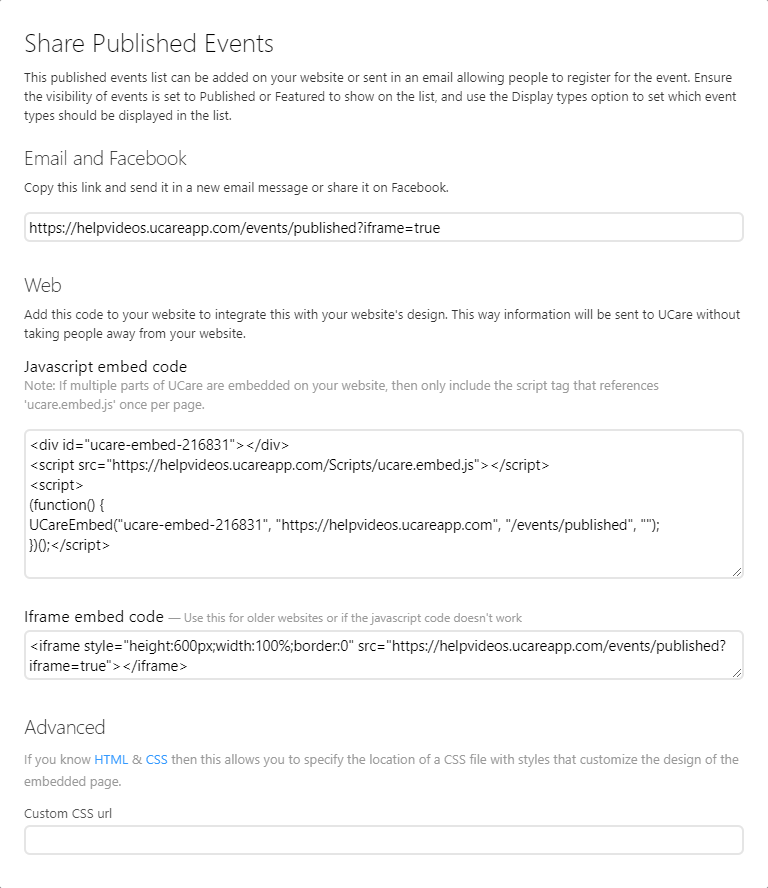 Each website builder will have different steps to follow to add this code, so you can use the documentation for your website builder to learn how to add code to your website.
Once you have published the event list on your website, your people will see the list of upcoming service events, allowing them to register to attend your services. They can return to this list each week to see the events for the following weeks.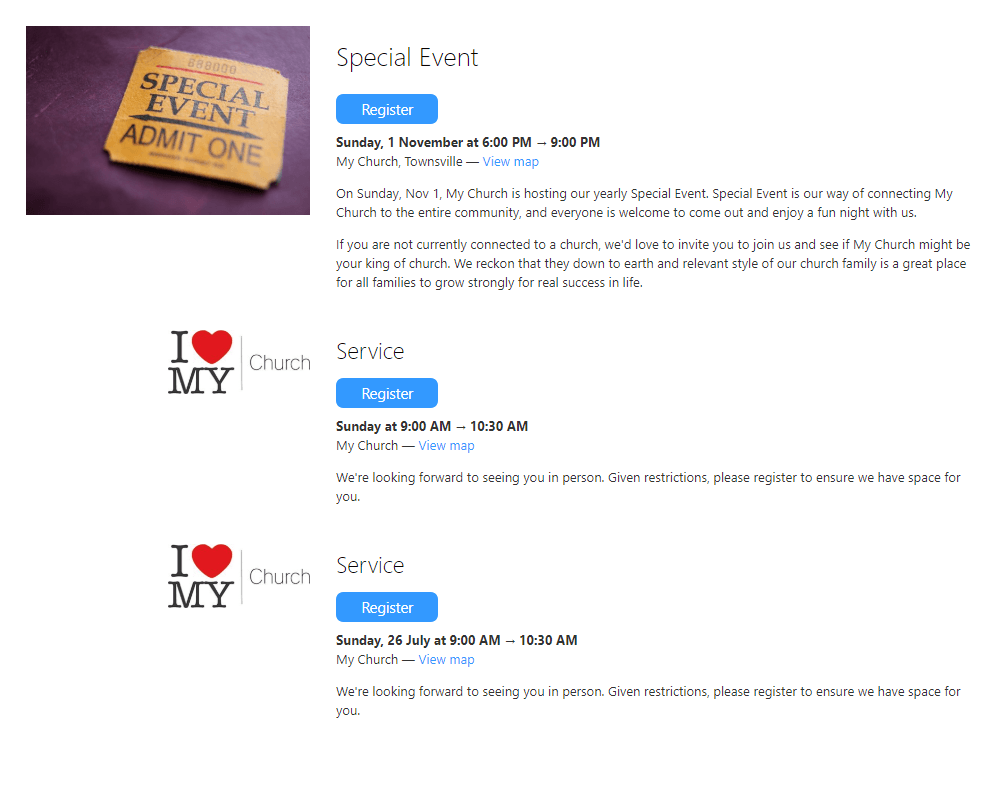 If you have multiple event types, the share dialog will allow you to select the type of events you want to publish. For churches with multiple locations, you should have used the campus name for your event type, as this lets you select that type to filter the list of events.
Canceling bookings
If a family has registered but can't attend, you'll want to free up their tickets so others can attend. You can find their booking on the profile of the person who registered or on the event page.
Open the booking and click "… > Delete"; this deletes the booking and frees up the tickets so others can register.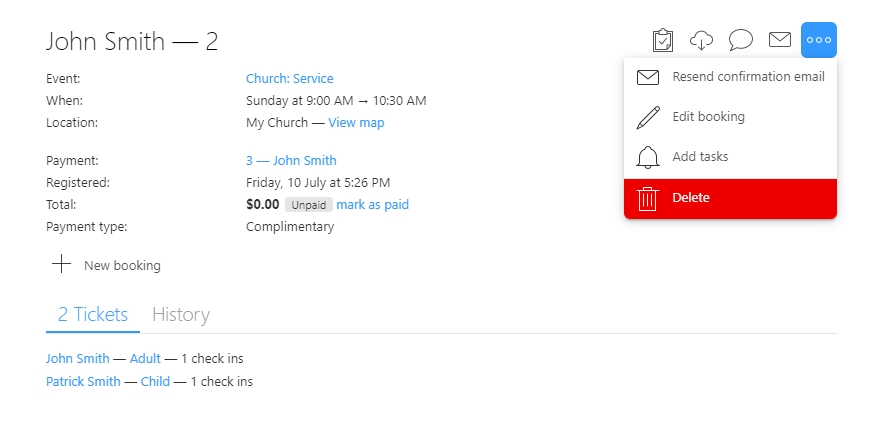 Changing tickets
Sometimes you'll need to add or change ticket types for a booking. To do this, find the booking and click "… > Edit booking". Update or add the tickets and click Save.